Last Monday saw my littlest boy turn 2. A full two years had gone by since I took my first tablets in preparation for my planned section the following morning, only to go into natural labour 30 minutes later. Two whole years since the tea-towel size piece of gauze was discovered missing after the op and after much panic and hunting, a portable x-ray machine had to be ordered up to check if it had been inadvertently stitched inside my numb belly. It hadn't but the somewhat offhand consultant suddenly couldn't do enough for me before it was finally discovered tangled up in the sheets around me on the third or fourth time of checking them.
All in all it was an eventful and vaguely traumatic birth and now, already, Rowan is 2.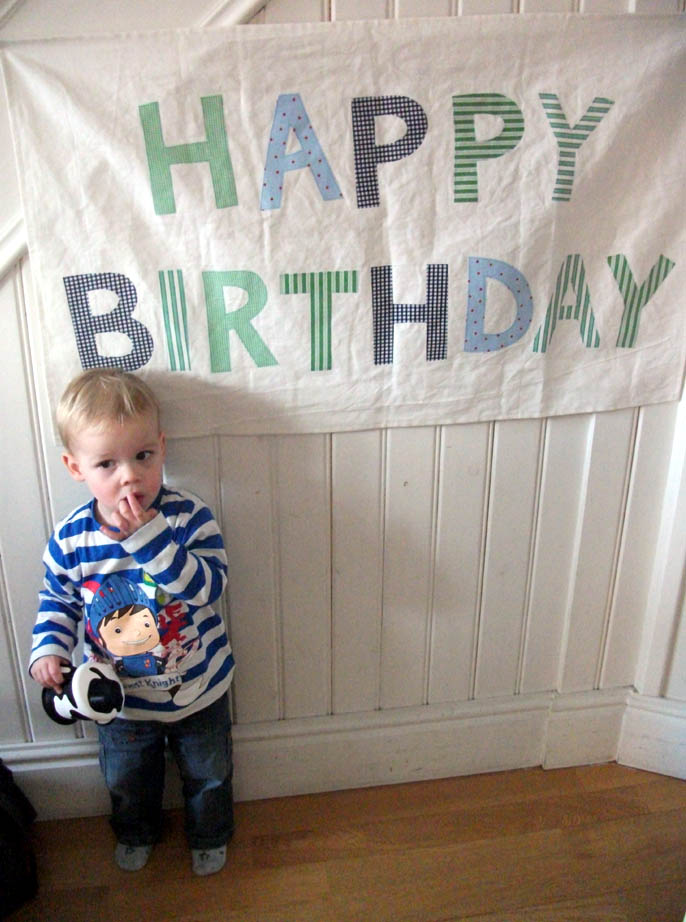 The idea to make the banner came from seeing Manda's post here and it's nice to now be able to ditch the over-used, tatty, foil banners we have lurking in a drawer.
Thanks to his Day of the Diesels DVD, Rowan has recently become obsessed with Thomas the Tank Engine and more specifically, the engine, Diesel 10. A browse on Pinterest turned up this photograph of a Diesel 10 birthday cake which Rowan loved and from then on he referred to "Diesel 10 my birthday cake" whenever his birthday was mentioned...and also often when it wasn't.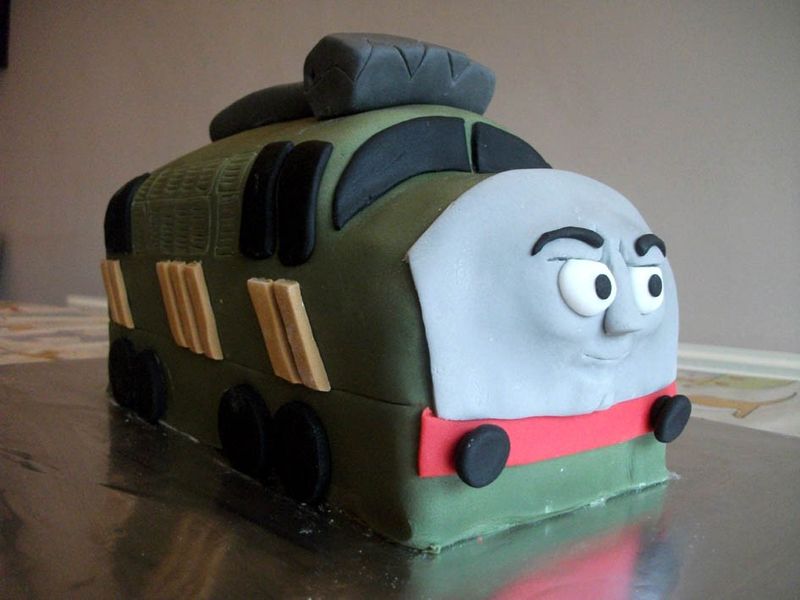 It was a fairly ambitious choice of cake design but handily my mum used make celebration cakes as a business and so I decorated it at her house, having all of her equipment and expertise on hand. I made two large rectangular sponge cakes using a swiss roll tin and cut them up to create a 5 layer cake sandwiched together with strawberry jam and buttercream and used a carving knife to shape the rounded roof. Spending a bit of time getting the shape of the cake right before covering it in ready-to-roll icing made achieving the finished look and likeness so much easier.
Whilst it doesn't match up to the brilliant Pinterest one, I was really pleased with the result but slightly gutted when I saw the DVD to realise I'd made him in the wrong colour. The little wooden engine toy I copied from was a khaki colour but the animation shows him as an ochre colour. The kids didn't notice so it couldn't have been that much of a gaffe though. 
I feel Rowan, being our second son, gets the thin end of the wedge sometimes. We could only come up with a few present ideas for him as he already has more than enough toys to play with having all of Aidan's old ones. We never planned a proper invitation-led party either and this imbalance of what Aidan had versus what Rowan gets, does give me a healthy dose of guilt, but treating them identically is neither feasible nor practical sometimes. The banner and elaborate (for me) birthday cake along with some large tissue paper pom-poms to decorate the house and a second, simpler, birthday cake rustled up for his informal party did act as some sort of compensation in my mind for the material inequality between the boys.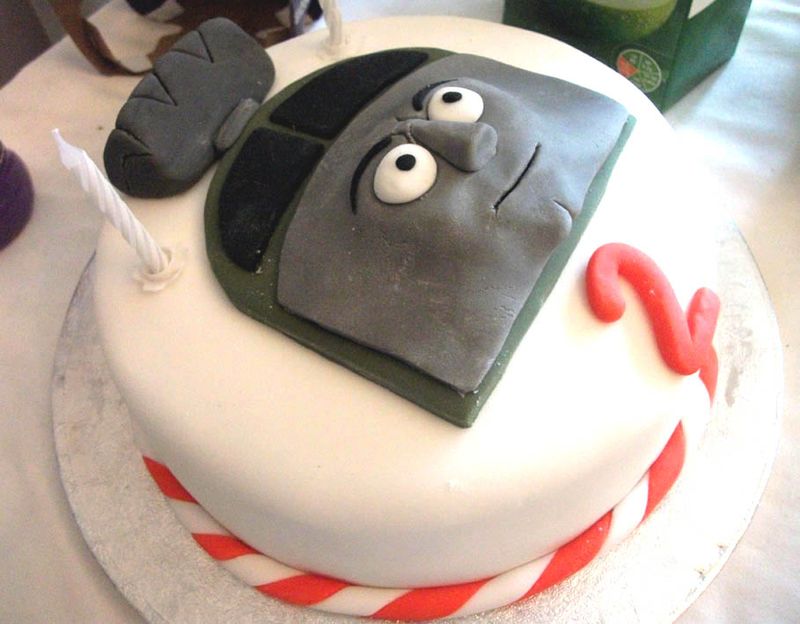 None of these things mattered to Rowan though, his day was made as soon as he was allowed marshmallows for breakfast.