The festive blog break wasn't intentional but as happens every year I went from feeling moderately in-control to utterly swamped sometime during the week before Christmas. It's all a distant memory now but late-night roulade making and wrapping presents at 3am featured.
I'd love to be able to post some beautiful Christmassy photographs of fresh wreaths, glasses of mulled wine set down in front of a crackling fire etc but I don't have any as that was not the reality of our Christmas. Our Christmas tree was definitely not photo-worthy, whilst it had a certain charm it could not accurately have been described as being beautiful at any point over the festive period as it was continually being stripped of decorations by Rowan and mauled by both boys as they climbed up behind it in the bay window.
There were plenty of smiles amid the chaos though.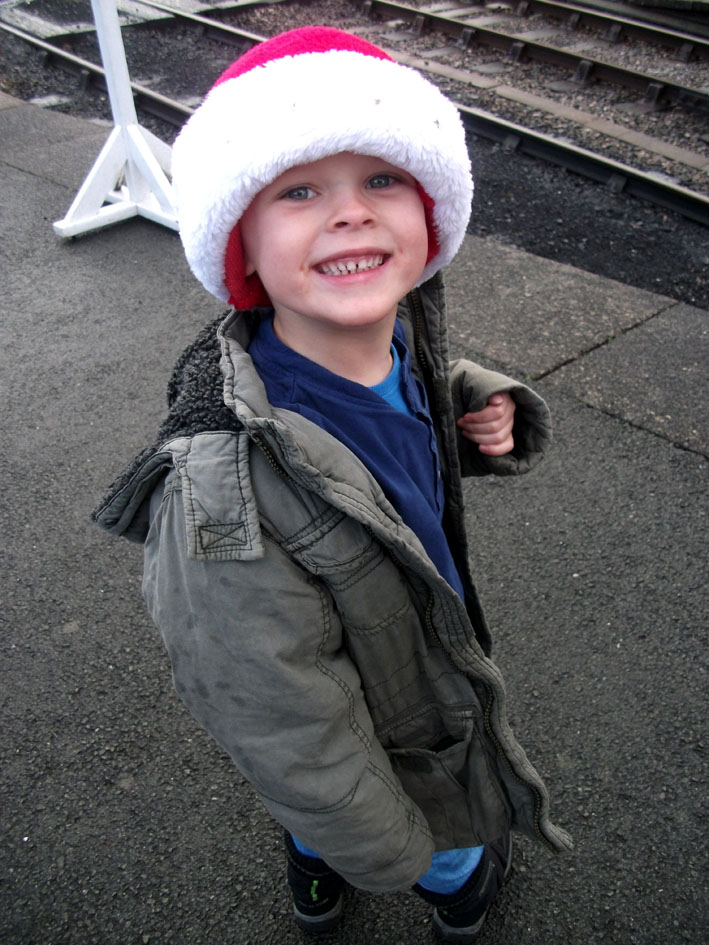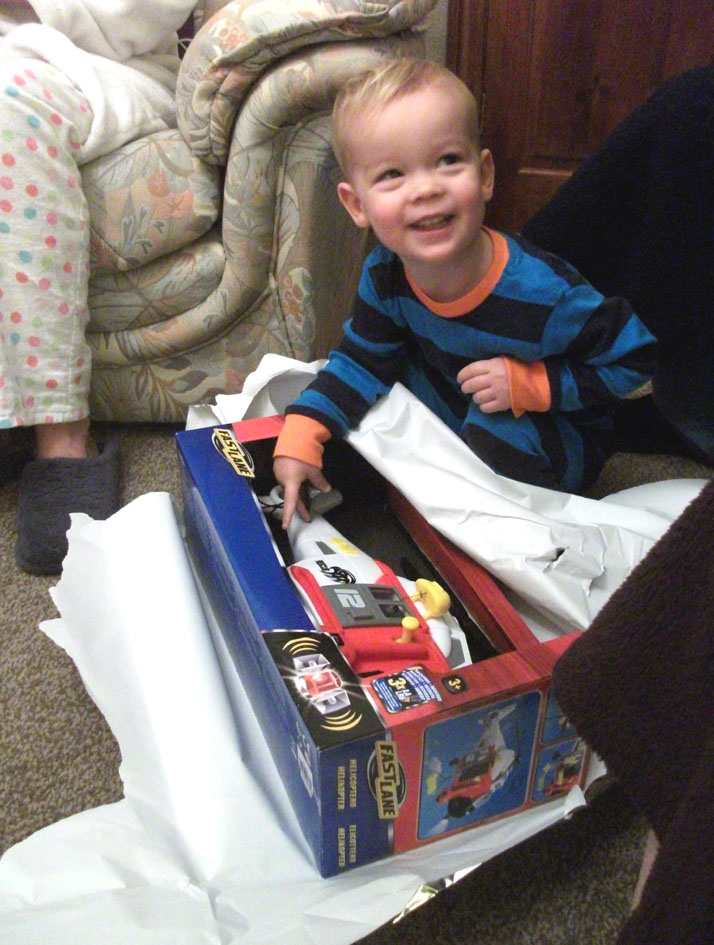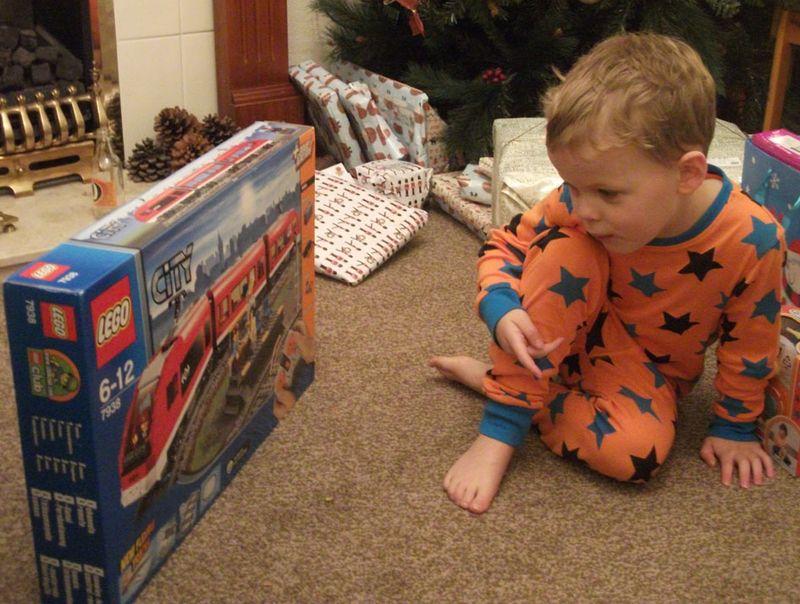 We spent a lovely relaxed New Year's Eve with friends and then on New Year's Day ventured over to Lyme Park with my parents for a lungful of fresh air and a look at the wonderful Nuffin Like A Puffin exhibition which celebrates the publisher, Puffin's 70 year history.

The exhibition contained a selection of original artwork from several children's books including Harry and the Bucketful of Dinosaurs and the first Spot book by Eric Hill which were wonderful. The highlight for me though were the illustrations from one of our family favourites, Each Peach Pear Plum by Janet and Allan Ahlberg. It was fascinating to see some of Janet's detailed preliminary sketches and ideas displayed alongside the actual artwork featured in the book and I was surprised to discover that the original artwork was reproduced at the same scale in the book (I'd always assumed it would've been reduced) making the level of detail even more impressive.
Nuffin Like A Puffin managed to appeal to each of the 3 generations of us visiting: Rowan enjoyed playing with a bucketful of dinosaurs, Aidan liked the activity sheets and spotting pom-pom caterpillars in the orangery, Mike enjoyed reading Mr Big, I could've stared at the artwork for hours, my mum discovered an historical adventure story she'd read years ago and wanted to revisit as well as looking at
some of the letters on display and my dad did some sterling crayon-work and helped the boys colour in and make a butterfly mask.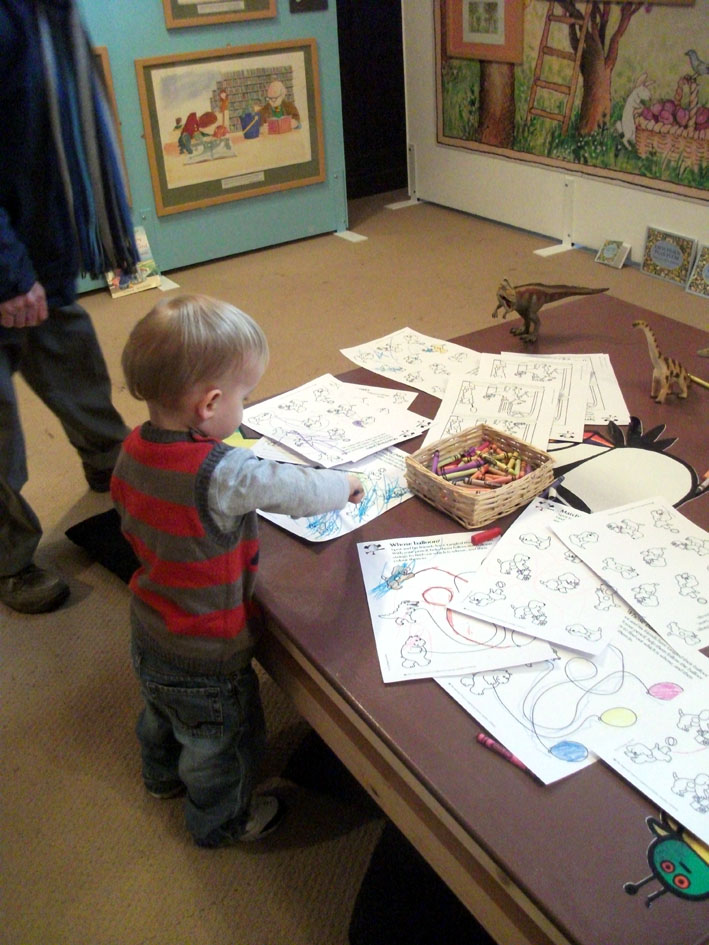 We didn't even see half of the exhibition as the boys are a bit young but it was well worth the trip out, especially as we're National Trust members it was all free.
Although not a Puffin title we even spotted the Gruffalo on the walk around the lake...