As I rule I can only make 8 of something before becoming totally bored with it and never wanting to make another one ever again. So far the only exception to that has been Christmas stockings which I can happily sew and sew - handy as I've made plenty over the last couple of months.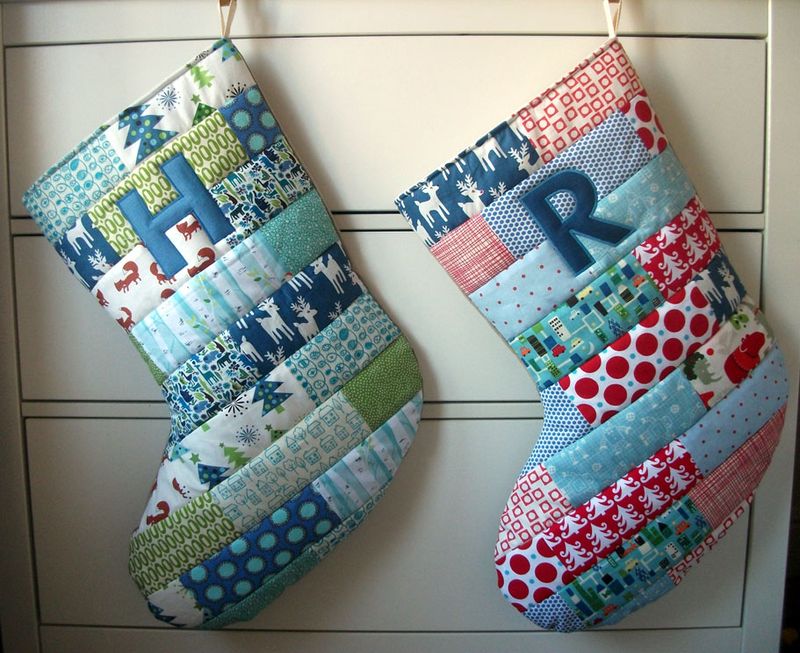 Providing some variety within the stocking stitching was this pair of custom made stockings for a pair of brothers, as requested by a customer through my folksy shop. They are 50% larger than my standard stockings and each have an appliqued initial.

One of the stockings is only a day or two younger than it's new owner, the order being placed before the baby was born and the initial only confirmed once he was here and his name was a certainty!
My stocking pattern came into being for my son, Rowan's first Christmas last year when I made him and his big brother, Aidan one each and I feel very honoured to know that at least two of my stockings are for babies celebrating their first Christmas this year.
I have the last batch of stockings to make and list in the shop tomorrow before closing that production line down for another 10 months. Then there is just one last custom sewing order to complete before I can turn my attention to an idea that's been itching at the boundaries of my brain for a while now. That's made it sound more exciting than it is, it's just a cushion cover but I really want to see if it looks as good in real life as it does in my head.