I did contemplate calling this post 'Jugs' but thought maybe it would generate some extra traffic to the blog that wouldn't necessarily be desirable...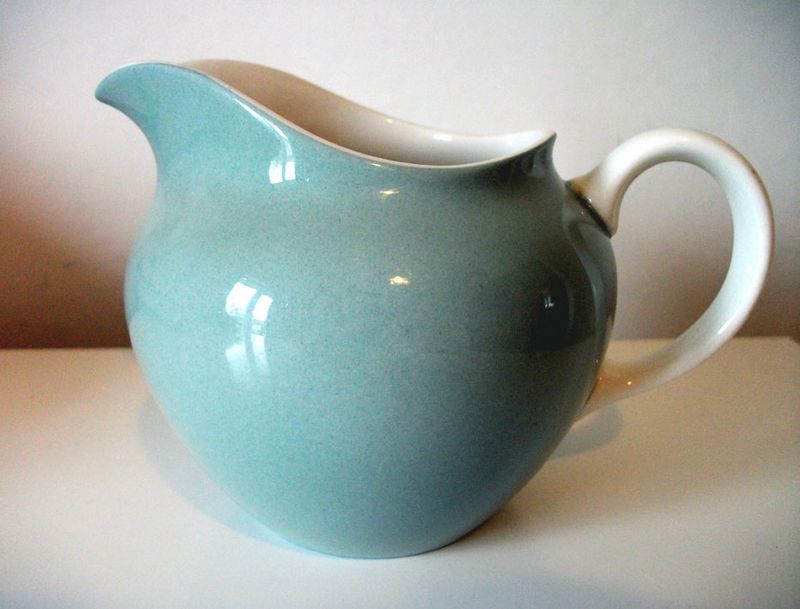 A few weeks ago, on one of the many china teacup shopping trips, I spotted this little sea-green Wedgewood jug in a house clearance place and bought it immediately when they said they only wanted 10p for it. I love it, the shape, the colour, the fact it was 10p! Finding it hidden away amid the piles of non-descript mugs, glassware and 80s plates decorated with pale pink and grey faded transfer prints somehow felt like discovering treasure. In fact the rush was much like that I felt as a 7 year old on opening a packet of Barbie stickers to find one of the sought after peel-off dresses that went into Barbie's wardrobe on the sticker album's centre pages...you know that feeling, right?
So that little jug has inspired me to start a collection, a jug collection (so far this statement has only drawn eye-rolls and sniggers). It provides a reason to trawl around bric-a-brac and charity shops far and near (who doesn't love that?), to experience the triumph of snapping up a jug-gem which if I'm honest somehow feeds my (not inconsiderable) competitive side and it also increases the opportunities to find a bargain (which again, who doesn't love that?). Plus, gathering together items that carry with them stories of their discovery and possibly stir memories of days out and trips away is irresistible for any sentimental type.
So what do you collect - and why?