I often approach gift buying for others, especially couples, from the perspective of 'what would I/we as a couple like as a gift?' and work from there. In fact I've now come to the conclusion that when designing patterns and products the most successful designs are those I've made for myself, things that please me seem more likely to please others too. Designing what I think other people want feels a bit cynical and never produces a truly satisfactory result. Well unless I'm working to a client brief in which case doing whatever I pleased wouldn't exactly fly. Anyway I digress, this post is actually meant to be about the patio pots I made (assembled is possibly more appropriate) to give as 'couples' gifts this year.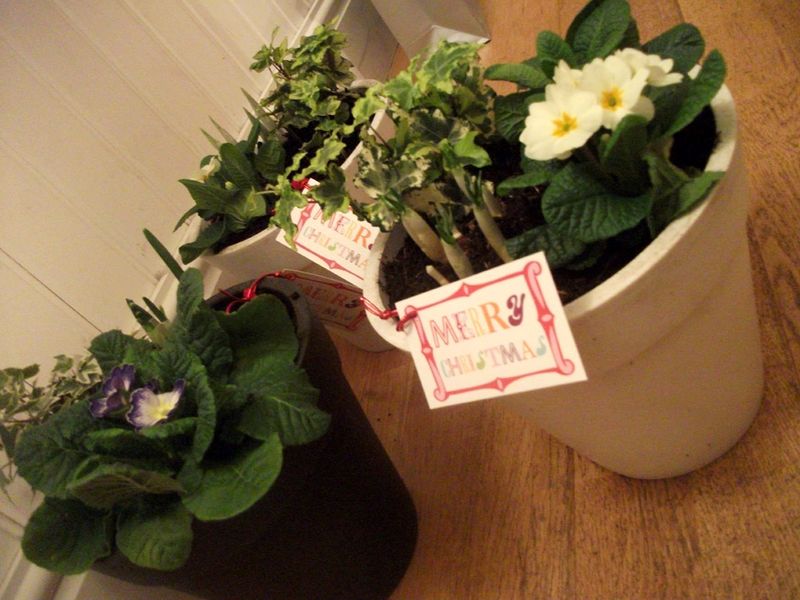 I love having a colourful, planted pot at our doorstep throughout the summer and when the withered remnants were removed this autumn, inspired by my Mum's beautiful winter hanging baskets, we decided to replace it with one planted up for winter. So from there I got to making several (11 in the end) to give to friends and family for Christmas. Each one contained an ivy, primrose and either crocus, dwarf daffodil or iris. If you're looking for a money saving gift to make this only fits the bill if you can get hold of good value outdoor pots, nice ones can be expensive, pushing the cost up before the plants and compost are added on.
I think that's about it for the Christmas posts, I can get around to starting 2012 properly now.