I'm a touch embarrassed now, I think I've bigged-up my first quilt a bit too much, it's really not that impressive. For a start it's only 45" (115cm) square, it's a fun-size quilt really, a bonsai, a micro-quilt.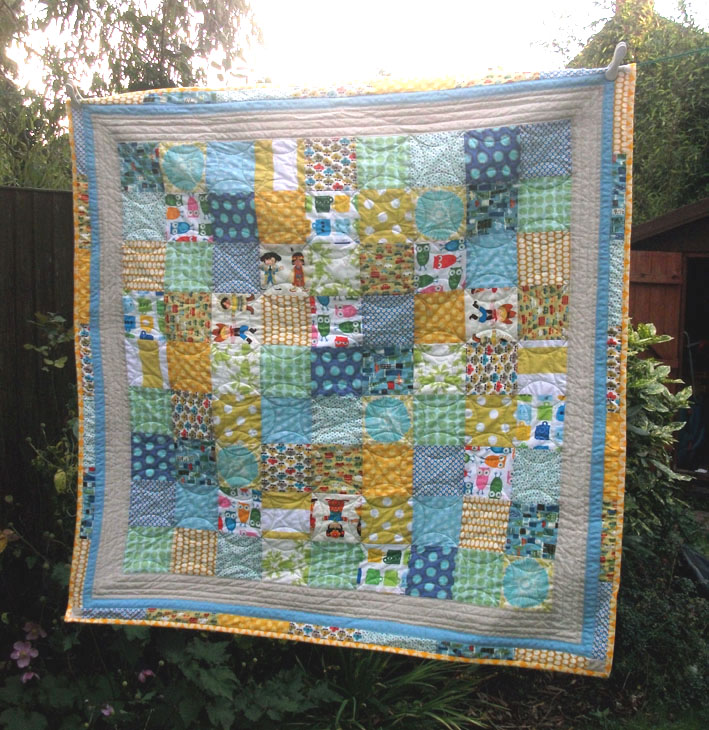 Obligatory quilt on washing line shot.
 
That said I'm still ridiculously pleased with it, mainly because I thought that to achieve an even quilted finish on both the topside and underside you had to be some sort of quilting sensei. A novice such as myself, even if I did a good job on the topside wouldn't be able to prevent the underside from being a gathered, puckered old mess. In actual fact all it really takes is a walking foot fitted to the sewing machine, they're not particularly cheap but they're worth every penny.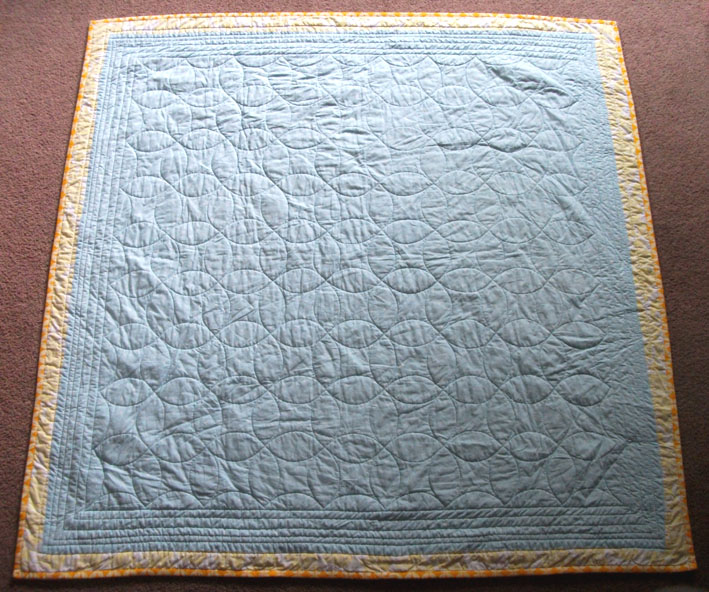 After the basic patchwork squares were all sewn together, it really was smaller than I wanted and so three borders went on to make it just a little bigger. There came one of my mistakes, the addition of borders made the quilt top fractionally wider than the backing fabric I'd bought, meaning the back had to be pieced too. I wanted the blue fabric for the reverse side (Aneela Hoey; Sherbet Pips range) kept whole and so a border around it had to be added. I knew it would be impossible to keep this square frame straight on the underside when it was quilted and the wonki-ness would be evident. As it is though I like the wonky border on the back and think the imperfection makes it a bit more interesting.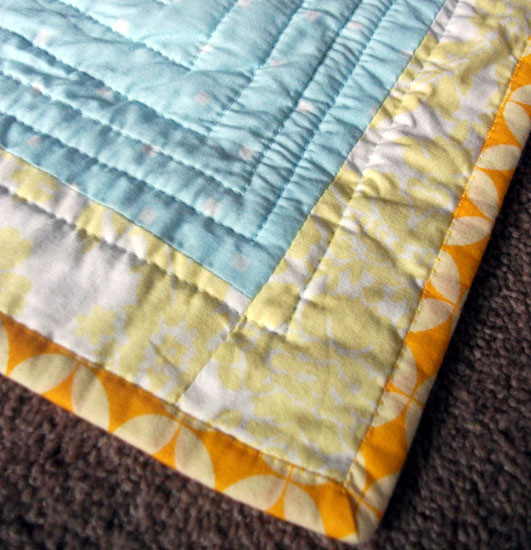 Another mistake was opting to run before I could walk with a quilting design comprising of curves. It wasn't as tricky as it might look though. I used a bowl to draw around and marked four curves from corner to corner along each side of each square, using a water soluble quilting pen. Then, picking a central square along one of the outer sides where the squares meet the border, I quilted from that side over to the opposite one, following the 9 arch, viaduct-formation pen line as closely as possible. The quilt was then turned 90 degrees and the same step repeated, then it was turned back the other way and another line was stitched, gradually working outwards until all of the squares had been quilted. After that it was just a matter of quilting a series of straight lines along the borders.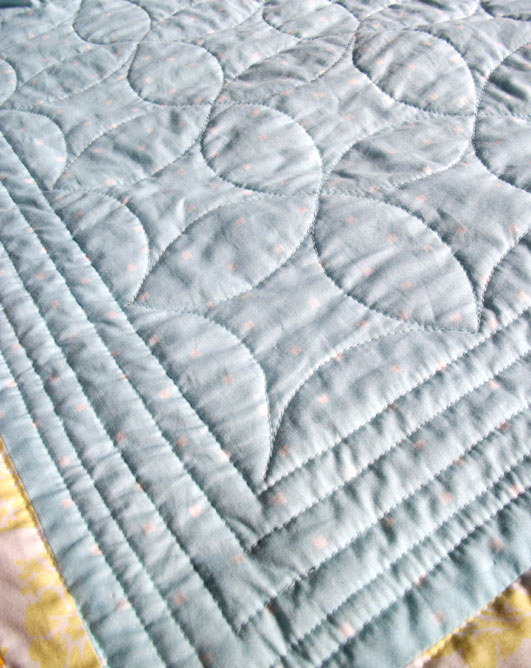 The binding was added using this easy to follow tutorial. 
So quilting is my new favourite hobby, they aren't really viable to sell due to the cost of materials and time involved in making them, but the process of making them is just so satisfying. I highly recommend giving it a try if you haven't before, look at how amazing they can be.
This quilt now lives on our sofa, fulfilling it's intended role as quilt to snuggle under on film night. Sappy moi?
Ps I got all of the how-to basics from this book, which is great.