I have been itching to get back on the sewing machine lately. All I have made since Rowan's birth 16 weeks ago, has been a string of bunting to go up in our front window for the Royal wedding (who knew I was such a monarchist?). And when I made that I initially threaded the sewing machine up incorrectly. It's been too long. There are too many ideas whirring around my brain at the moment that are starting to nag.
The bunting is now hanging in Aidan's bedroom.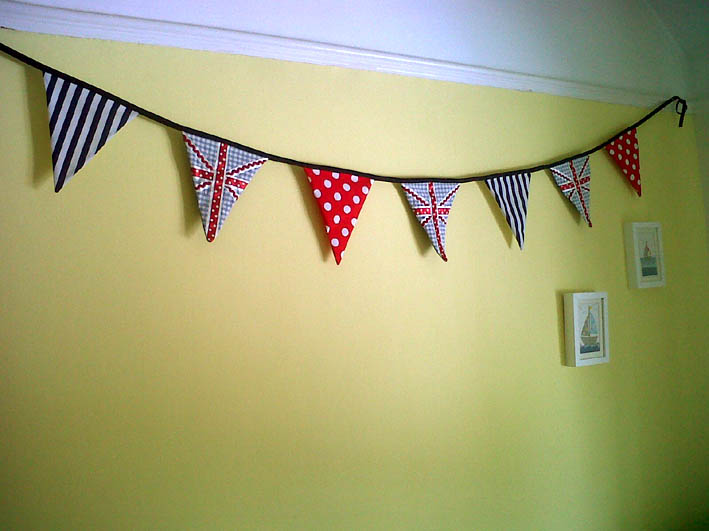 The Union flag details were easy enough to do. A length of red ric rac was sewn onto white ribbon down the centre, before being ironed (as it can become a bit 'frilly') and cut up into the pieces needed to go onto each flag. They were arranged onto the flag one at a time, pinned and stitched in place along either side of the white ribbon. Then the polka dot ribbon was attached to the plain white, sewn together this time with two lines of machine stitch along either side of the red ribbon. This was then ironed, snipped up into pieces to be pinned and sewn, one at a time, onto the flags down each side of the white ribbon.
The flags are sandwiched in some folded over bias binding which is stitched closed along the full length.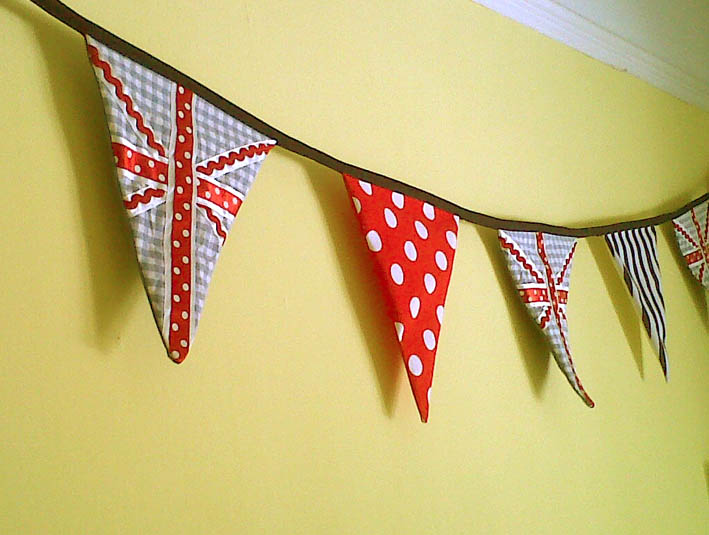 It can be a bit tricky at first sewing ribbon onto ribbon but with a little practice it's manageable enough and it doesn't need to be perfect. Any really wonky sections can be left out when it comes to snipping it into shorter pieces.
At the moment my dream day (providing my boys were off having fun somewhere) would be one spent alone with my sewing machine, the bbc iPlayer (The Complete Smiley on radio 4extra has been brilliant recently), a pot of coffee and an endless supply of Wispas. Oh and a full 8 hours of uninterrupted sleep to follow. Whilst it's a dream, the postman could turn up 11am-ish with a new laptop, printer and camera I'd won in a competition that I'd forgotten I'd entered. I have managed a little bit more sewing though.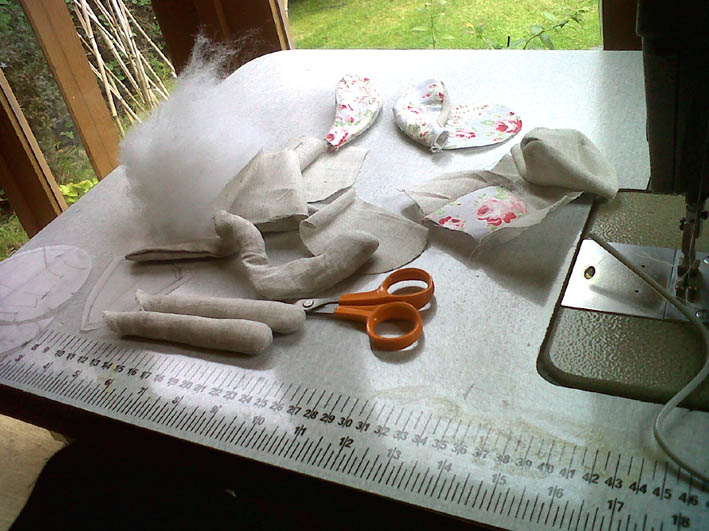 This project which should take around 2 hours from start to finish, is sat on my machine awaiting some more attention. It was started on Monday, finished at the weekend maybe?