This blog post is at the request of my niece, Sophie. It's a really good recipe that I have scrawled in a scrapbook but it's originally from a Good Housekeeping recipe book (should anyone want to know which book exactly I can find out as it's on my Mum's kitchen shelf). Soph and I used to make them together when she was little. She's now in the middle of her GCSE's but a good biscuit stands the test of time.
 Ingredients
150g (5oz) plain flour
125g (4oz) butter
150g (5oz) sugar
125g (4oz) crunchy peanut butter
1 egg
1/2 tsp baking powder
175g (6oz) raisins
pinch of salt
Pre-heat the oven to 190oC, gas mark 5.Put all of the ingredients except for the raisins, into a large mixing bowl and mix together with an electric mixer until well combined.
Stir in the raisins with a spoon
To form cookies, scoop a tsp full of the mixture and roll it into a ball, flatten it slightly and then place onto a greased baking tray (do not place too close together as some spreading will occur).
Bake in a pre-heated oven for 15 minutes or until golden brown around the edges.
This recipe can be made equally well using Dove's Farm gluten-free plain flour and gluten-free baking powder, making it suitable for coeliacs.
And because no post is complete without a picture or two, here is a photo Aidan took last week on our visit with friends to Stockley Farm. The piglets have a heat lamp in with them hence the pink glow.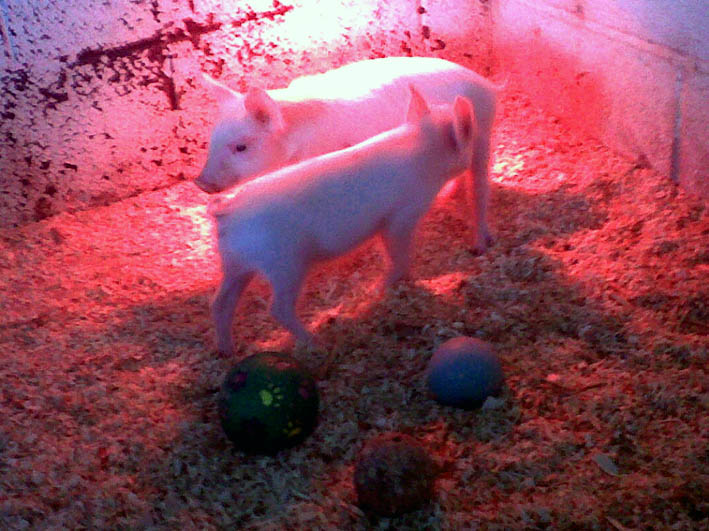 Aidan would've been happy with a visit to an arable farm as he was only really interested in the tractors and diggers, he found bottle-feeding the lambs an unnecessarily scary activity. So when he asked could he stroke a goat (that was restrained behind bars) I took a picture as proof.