It takes a lot of energy to care for a new baby and by energy I really mean chocolate. A noble mission to find the best brownie recipe was undertaken a week or two back and several have been road-tested since. Success always hangs on thorough research.
Taking Nigella's basic brownie recipe from How To Be A Domestic Goddess and fusing it with the best bit (in my opinion) of Jamie's 30 Minute Meal brownies, resulted in our favourite recipe so far - crisp and crunchy on the top, dense and fudgy below:
Ingredients
175g unsalted butter, cubed
175g dark chocolate, broken into pieces
3 large eggs
1/2 tsp vanilla extract
250g caster sugar
125g plain flour
1/2 tsp salt
100g pecans
Method
Preheat the oven to 180oC, gas mark 4. Line a baking tin measuring approximately 20cm x 28cm with greaseproof paper.
Melt the butter and chocolate together in a pan over a low heat. Allow to cool for 5 minutes.
Meanwhile, in a large bowl, beat the eggs, sugar and vanilla together for 1-2 minutes with an electric whisk until the mixture thickens becoming paler and foamy.
Pour the melted chocolate and butter into the egg and sugar mixture and beat together until combined.
Fold in the flour and salt.
Pour into the prepared tin and spread out evenly. Scatter over the pecans then press them down slightly into the chocolate mixture.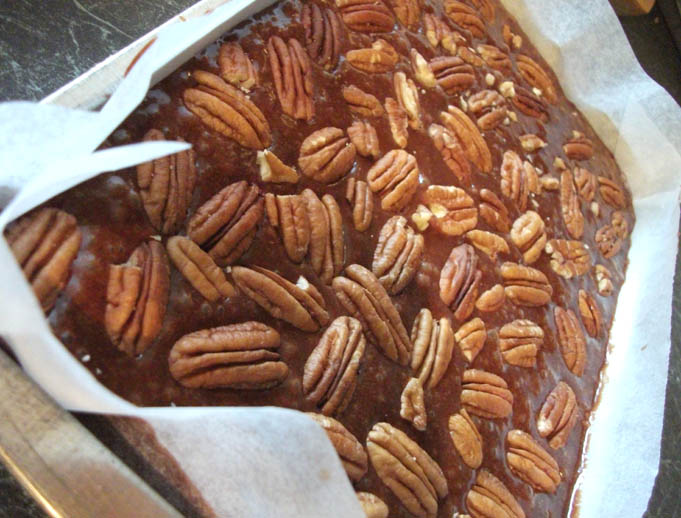 Place on the centre shelf of the oven and bake for 25-40 minutes (it takes 40 minutes in our oven but our oven is dreadful, 30 minutes is probably about right but I couldn't say for sure). The brownies are ready to come out of the oven when the top is risen and cracked and there's a hint of a wobble underneath, the top will sink back as they cool.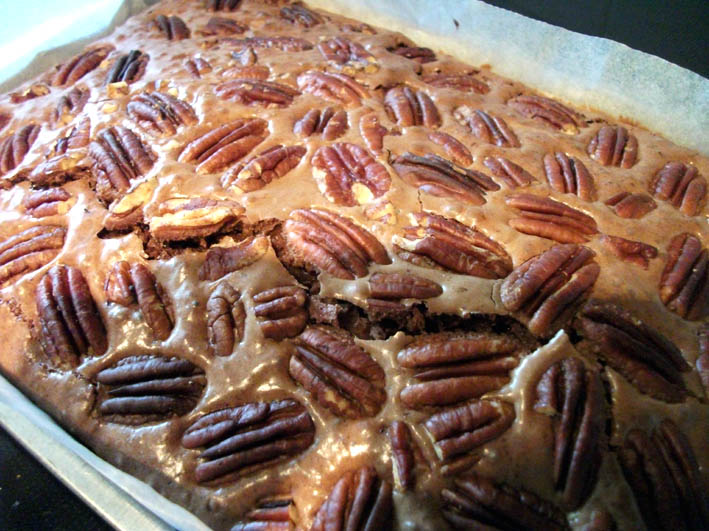 So that the brownies are suitable for coeliacs I make them with Doves Farm gluten-free plain flour.