My favourite recent tv programme by far has been The Great British Bake Off, it was must watch television for me (and my Mum) and has inspired a good number of baking sessions already (with a list of want-to-bakes standing by). A better blogger would've posted about it during it's run and not a fortnight after it had finished by hey, better late than never. Even as a coeliac disease sufferer it didn't hamper my enjoyment as most things can be attempted with gluten-free flour and can be comparable with the real thing, although plain sponges can be tricky and often a masking flavour such as chocolate, lemon, coffee etc. works best. Oh and gluten-free pastry can be crumbly and hard to work with but the taste is fine. Bread though, real bread, still isn't really achievable.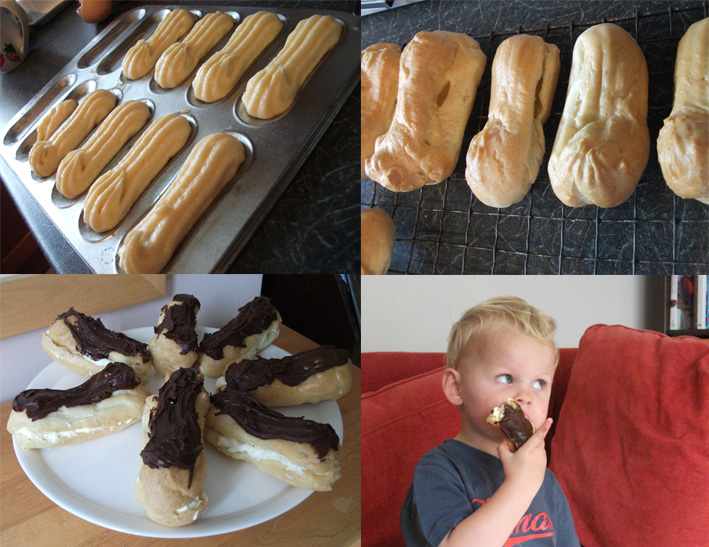 These were our chocolate eclairs, our GBBO inspired attempt at choux pastry (my Dad has developed Aidan's taste for cream cakes as their route to the park leads past a bakery). 
The Great British Bake Off was so enjoyable for several reasons, firstly the tips and science behind baking - never again shall I twist the cutter in my quest for the perfect scone (or as perfect as gluten-free scones can be) as it seals the sides stopping them from rising well. Secondly, the contestants showed such a variety of skill and the baked goodies they made looked amazing, what sewer wouldn't love Miranda's chocolate button studded cake (unfortunately I can't locate a picture). And lastly, Mel and Sue made great presenters who seemed to genuinely care about the contestants. Oh and of course Mary Berry's good cop judge against Paul Hollywood's bad cop judge with his forensic-crumb-structure-studying frown.
My two favourite contestants were Ruth and Miranda who came second and third respectively. They are both really talented and make the most beautiful and delicious looking food - and have started baking blogs too as a result (more recipes to add to the to-bake list).
I received a copy of the book that accompanied the series last month for my birthday (ta sis), Aidan loves to flick through it and let us know what he likes the look of. In fact he has started to bring it to me and ask 'what shall we make today?' Wednesday afternoons have become our unofficial baking time, last week we made coffee and walnut cake.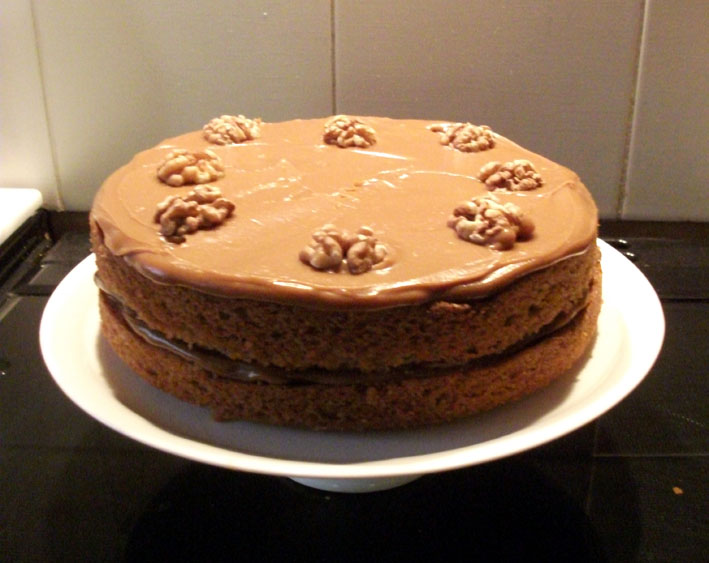 Why he will merrily eat spoonful after spoonful of strong-flavoured coffee icing yet turn his nose up at a fish finger is a mystery.