It hasn't really taken me a week to get over Aidan and his friends 3rd birthday party, just that long to get around to writing about it.
I became part of a group of friends that formed when we all met as first-time mums via a local breastfeeding support group and other mum and baby gatherings. Meeting as we did through our coinciding beginnings as mums also meant that some of our little ones have birthdays around the same time (within 15 days), hence the joint-six-way third birthday party. A unisex theme of teddy bears picnic was chosen and jobs divided up - invite design/food/hall hire/party bags etc.. It worked out really well but did involve some heavy-duty e-mailing! Organising the party by committee had a number of benefits - the division of labour, cost and plentiful ideas - even Peppa Pig made an appearance courtesy of a very kind uncle.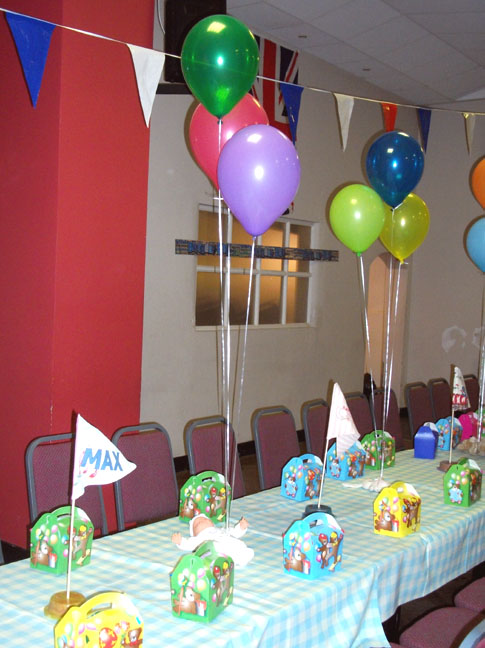 Party bags were my responsibility, it was a plum job really and quite a bit of fun internet shopping for bouncy balls, glittery bracelets, gliders etc..
Another idea was to bake teddy bear shaped biscuits for the children to decorate with ready made tubes of icing. The recipe was a Nigella one (from How to be a Domestic Goddess) but I owe serious thanks to my little sister who spent a Saturday night working like a trojan in my kitchen rolling, cutting out and baking all 50 biscuits.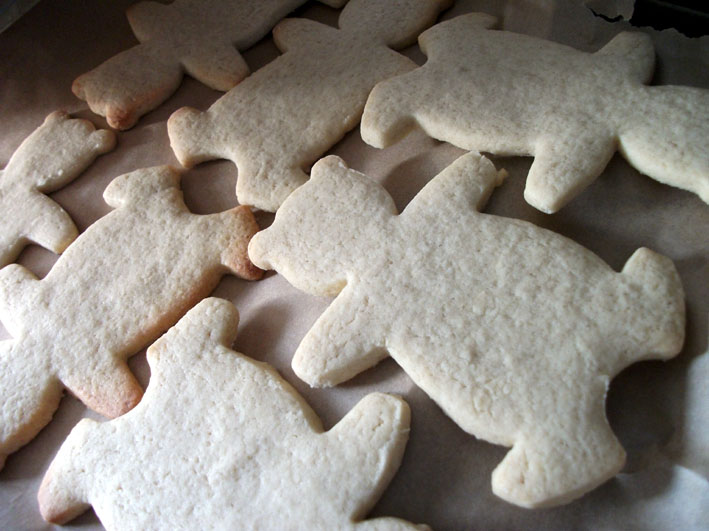 Whilst my sis did the biscuits I set to making a name flag for each of the birthday children to personalise the celebration more for each of them.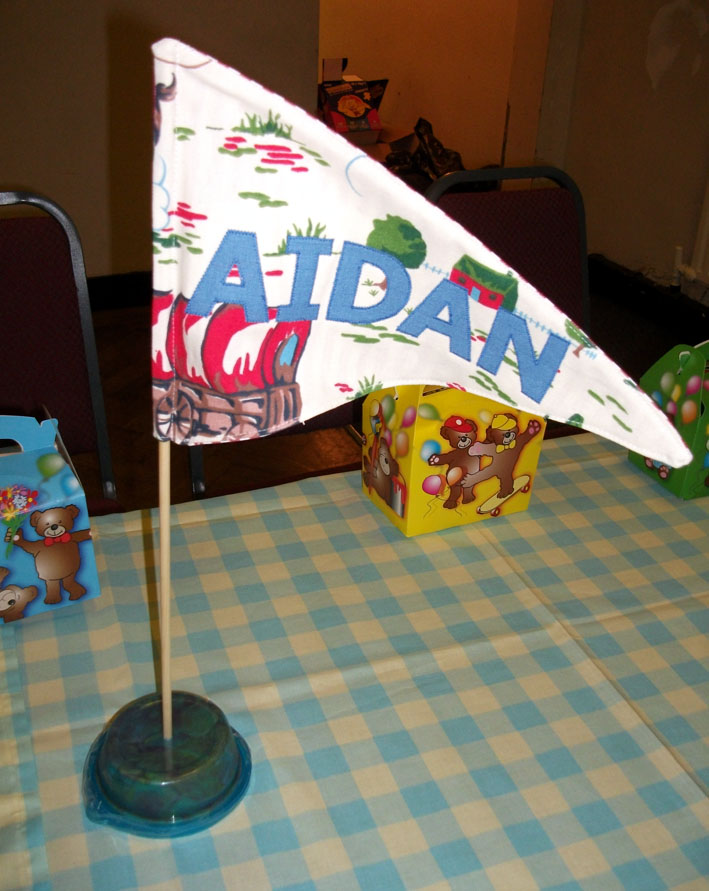 To get the flags to stand up on the table they are actually inserted, through a drilled hole, into a plastic food tub filled with play dough to weight it down. Possibly not the most beautiful way of displaying them but safe enough should any of the little ones got hold of one. Due to a (thoroughly typical) under-estimation of the time it would take to make 6 appliqued name flags they were finished in a panic an hour before the party started... but thankfully due to the multi-mum team everything else was under control and efficient, food, balloons, banners, music, toys - the lot!
Other party related thanks goes to my mum for supplying chequered table cloths - and then washing them afterwards too!
Thanks Mums x