The idea for the look of the bathroom was to go for geometric, almost utilitarian fixtures and fittings, sort of institution-chic as Mike termed it, and then soften and pretty it all up with accessories. The first of these softening touches has been a monogrammed facecloth each.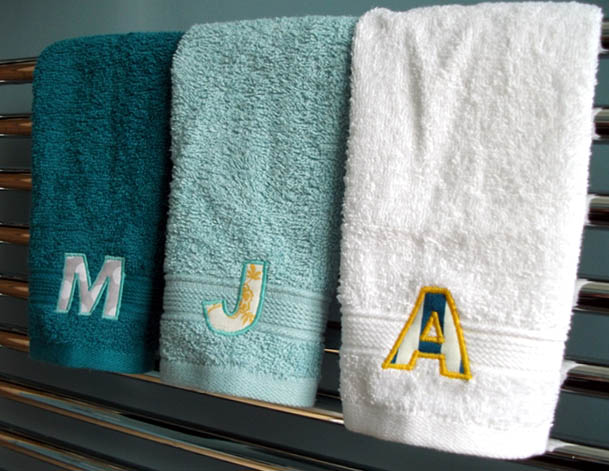 I thought it may look a bit childish to spell out 'jam'
The flannels were 75p each from Sainsburys and I machine appliqued an initial on each one. It was fairly easy, although knowing that you're only going to waste 75p if it all goes wrong does tend to free up any nerves. I typed out each of our initials in Arial Black and then increased the size of the letters to 4cm in height, printed them out and used the printout to draw the reversed letters onto Bondaweb. If the printed cotton applique fabric was a little thin and the colour of the facecloth underneath would show through some plain cotton lining was Bondaweb-ed onto the reverse of the printed cotton to thicken it. This lining would then have the Bondaweb with the letter traced on ironed over it and cut out. The letter was then ironed onto the flannel, set in a small embroidery frame (which didn't quite fit as the initial was on the edge but it didn't matter) and satin-stitched in place. Hope that made sense and didn't just make a very easy process seem complicated.