Blogging is, by it's very nature, narcissistic and the more I write the more I become aware of this less than comfortable fact. To counterbalance all of the 'me-me-me' though I can't really write about anybody else too much as that would infringe their privacy. Course I write about Aidan but is that so much about him or about me as a mum (will he hold any of this against me as he gets older)? In many ways I view the Aidan-y bits as a diary to read through in the future as a reminder of his developmental stages and the activities we did together. Already the memories of caring for him as newborn baby have blurred to obscure many of the finer details. For example should I come to have another baby the midwives will most certainly have to demonstrate again how to bath it correctly, that's all smudged out now a couple of years on.
I'm feeling the need to justify why I'm doing this - is that coming across? It does makes a cheap and easy alternative to a proper-copper business website and has also become an extra link to a few members of my geographically distant family (the down-side of family reading this blog however is the potential to defuse any surprise when giving out handmade gifts come Christmas). So it's not just to yammer on about myself, honestly.
Anyway, here's a made-to-a-design-brief cupcake.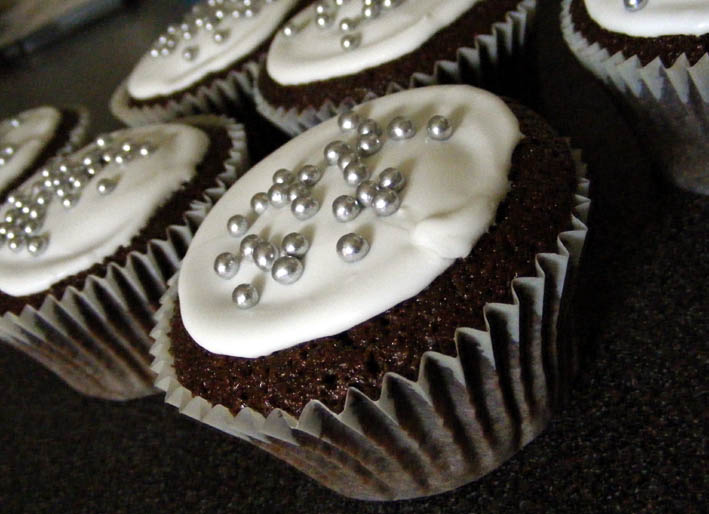 My husband Mike was really quite ill at the beginning of the year and he lost (without trying) a frankly alarming amount of weight and was suffering with anaemia. The upshot was that towards the end of the summer he was diagnosed with coeliac disease, an auto-immune disease which means he can no longer eat gluten found in wheat. Freakishly, I went through the same 10 years ago and so it's not been a huge adjustment and just means that we are both now on the same diet. We went to a fantastic triple 40th birthday party at the weekend for 3 good friends and Mike very kindly in the run-up to it, volunteered me to supply some gluten-free cupcakes to go alongside the normal ones (hence the design-brief). Gluten-free sponge can be a tricky business as the unusual and not thoroughly pleasant taste of the gluten-free flour can be too obvious in a light sponge, so it was a bit of a problem. Fortunately, Nigella has a good recipe in How To Be A Domestic Goddess which is light on flour and big on chocolate and treacle-y demerera sugar, it was a good job we had a couple of duffers in the batch that spilled out of the paper case and became taste-testers as in the end we didn't have one at the party.
In more other worky-related stuff, sadly my canvasses haven't sold in the shop so in a last effort I've done an example canvas for personalised ones in the hope that it may attract some orders.