It was about a year ago, whilst googling for some free knitting patterns, that I discovered a fantastic blog and then from that one several others. It was great to chance upon all these fascinating and inspiring blogs by such talented people and get to see the wonderful things that they were making and doing. There are four blogs in particular that I read regularly and one of these favourite four is Tree Fall Design by the very talented Manda. I can spend hours looking through the photos of not just the beautiful things that Manda sews in gorgeous print and colour combos, but her highly enviable stash of fabrics and home too. Anyway if it's not clear - I'm a fan and my latest project is a Tree Fall one -it was a must-make when I saw it despite not being very good at big stuff. If there is one thing that I love, it's my bed and in attempt to nurture the same love in Aidan I had to make one for his new(ish) big bed to up the warm and snuggly factor.
I followed Manda's instructions from her post entitled Bed, Feb 11 2009 for the quilt she made for her daughter. It's not completely the same as I added initials and stitched both length-ways and width-ways to quilt it into squares, just to get a bit of practise really never having quilted - tacking it all out first. The front is made from Cath Kidston's cowboy print with a 30cm long panel at the top made from a blue and white striped fabric from Ikea. The reverse side is made from a green and white Ikea print (cheap as chips and surprisingly soft), maybe I should've gone for something a bit more subdued but if you can't go bold and bright for kids then when can you? The initials on the front top right, were an addition motivated purely by a desire to have a go at applique on my new machine - not a perfect job but fun to try. They're cut from the solid green areas of the leftover reverse fabric using Arial Black font at 10cm high as templates and were glued on before being zigzagged in off white/cream thread.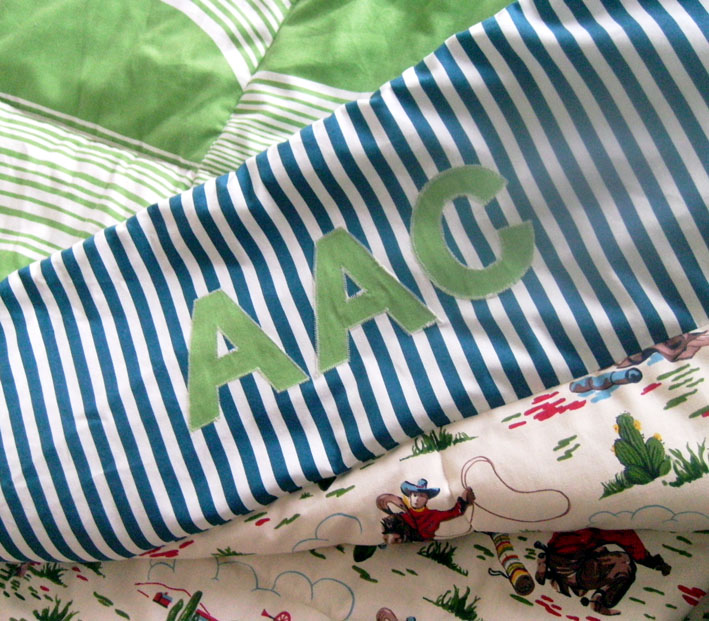 It's doing just the job keeping the little man warm at night whilst he has a cold - too much splashing in 'puggles'.