A couple of years back a duck layed her eggs in my mother-in-law's back garden. Sadly, as the nest was very obvious, despite the duck's best efforts, all of the eggs were taken by magpies. We were all upset for Mrs Duck although a 'Lassie went to live on a farm' style white-lie was told to the grandchildren to spare their feelings. It was all very stressful for my mother-in-law who was witness to it all.
Then last year Mrs Duck returned - she'd learnt a harsh lesson the previous year and had got wise to the nasty magpies and the first clue we had to her return was 13 ducklings running about on the lawn. All 13 survived and spent their early weeks in the lap of luxury with a paddling pool and duck feed aplenty. Despite the 100% survival rate it was still a pretty stressful time, their guardianship was a heavy weight for my mum-in-law and so this year she asked would I scour the garden for any sign of a nest. Every border and nook was studied and I confidently reported that all was clear.
It was a bit of a surprise then last week to see this...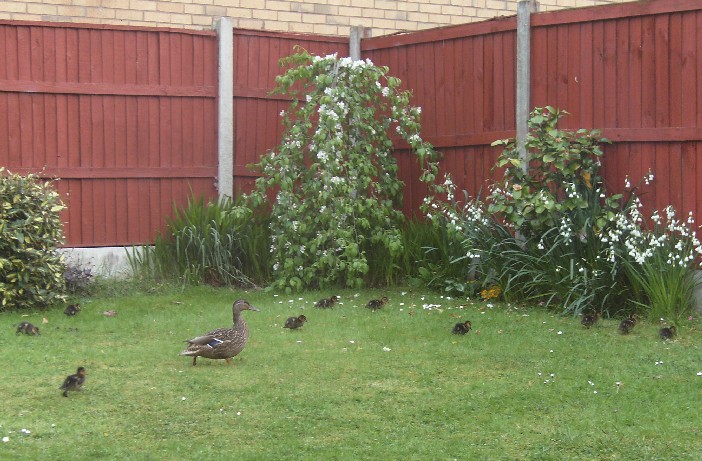 I think somebody else will be asked to do the search next year.

Yes that is a baking tin they're bathing in temporarily, a paddling pool is on the shopping list for the weekend. 15 ducklings hatched, sadly 2 have been taken but hopefully the remaining 13 will make it. Aidan is loving watching them through the patio window and doesn't seem to mind not being able to use his slide in the garden at the moment.