My job has been crunched in the recession so I now find myself on the soft toy designing scrapheap. That's a bit dramatic as the truth is, even though it will make things more difficult financially, it's great that I get to spend more time with my little son who is 2 in the summer and growing up too fast (we were awoken by him shouting 'I'm cold' from his bedroom this morning).
I've been designing toys for the last 10 years and it's definitely time for a bit of a change, working out what that change should be is the tricky bit. I've been reading a few blogs regularly for quite some time now and have found them really inspiring especially with regards to rediscovering knitting and providing ideas for non-toy sewing projects (the joy of Amy Butler bags for example).  I do love making toys and sewing generally so making whatever I like will be a real treat, well I did get some strange work projects - soft toy poo anyone?
Anyway my desk is waiting for a project.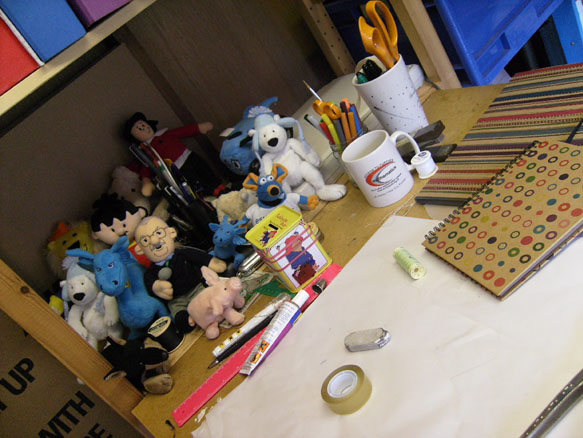 I suppose if Aidan's cold in a morning a bedspread could be a good starting point, although if he's going to sit on top of his duvet and roll his pyjama legs up what does he expect?